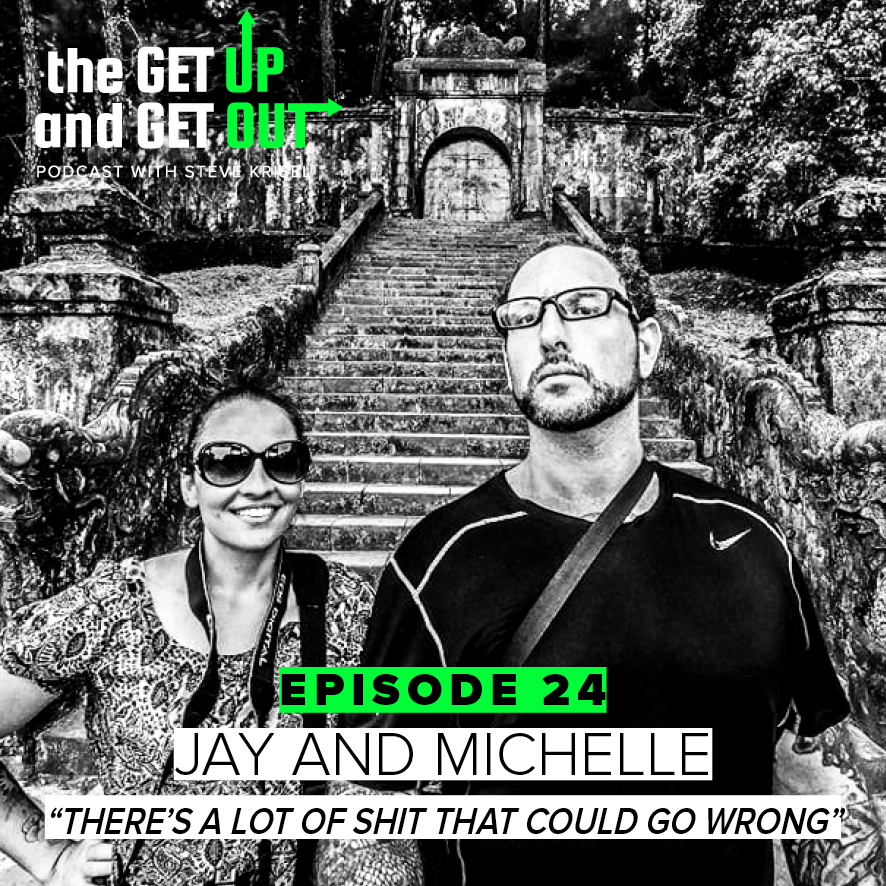 Welcome to Episode 24!
Today we have a super great couple, Jay and Michelle both from Long Island, New York who have, for the past 10+ years traveled, visited, worked, and lived in multiple countries including New Zealand, Australia, Korea, China, Malaysia, Cambodia, Nepal, and Thailand. 
Jay, originally from New York City, has traveled and lived between NY and California, learning and training in several martial art styles before jetting off to Australia where he met Michelle, who also happens to be from New York. These two met and quickly became inseparable. Jay and Michelle got married and for the last 10 years they have been doing exactly what best friends do - Enjoying their travels and their life together.
A little bit about Michelle. A dual-citizen of America and Australia was born and grew up on Long Island in New York. After finishing up high school, she wanted to reconnect with relatives in Australia and decided to attend university in Australia. 
These two jet-setters are currently located in Ho Chi Minh, aka Saigon and they both are ESL teachers. In addition to teaching, they have a growing YouTube channel that helps people learn about these wonderful places, their interesting opportunities to live and work and they also offer consultation services designed to advise and educate their clients on the best way to relocate to "greener pastures".
On today's episode, we had a chance to chat with these two about:
-Why they left America
-How they met
-Where they've lived (what drew them there and why they left)
-How many tattoos Jay has
-Discovering that Michelle is also an accomplished martial arts practitioner
- The in's and out's of working in Southeast Asia, especially in Vietnam
-Why New Zealand Sucks...but is still totally beautiful.
Feel free to connect with these two at the following:
YouTube, Facebook, Instagram, Jay's Blog, Michelle's Blog 
We want to thank you for joining us today.
We truly appreciate your time and we hope that today's show brought you some great tips and some powerful positivity and motivation to do what you've always dreamed of doing - no matter what!
If today's message was powerful for you - consider sharing this episode with someone who might benefit or consider leaving us a review over on iTunes. It doesn't matter if it's one-star or five.
Reviews are a way of sharing your thoughts. We are always striving to be better than the last episode and your feedback is greatly appreciated. In addition, each review helps us spread the word about what we're trying to accomplish.
If you would like to be on the show or you know someone who might be a great guest, please send us an email at
Feel free to follow us on Instagram: @stephenkrisel
on Facebook: The Get Up & Get Out Podcast
As always, our podcasts are edited by Valerii Lugov
Our music is "Birds" by Corbyn Kites
Once again, thanks for joining us today and remember…
Get Up
Get Out
And Discover the world - on your terms!